[Editor's note: The In-Depth Genealogist welcomes guest blogger Lynn Palermo of The Armchair Genealogist! Lynn shares her insight on the making the jump to write your family's story.]
I was perspiring profusely, I know it was July and I had good reason to be standing in a pool of my own sweat.  The added inability to focus, shortness of breathes and screaming voices in my head telling me to run were more than I could blame on the effects of a summer's day sun. You see, it had come down to this one moment. The moment I had to put 'it' out there into the world.
I was standing amongst my family, some 250 of them. We had gathered for our family reunion. It was a great weekend, a success on all counts but it was ending, and it was time.
For the last year, I had immersed myself in writing my family history stories. For the last year, I had written, rewritten, revised, wrote some more and revised it again all for it to come down to this one moment. Now, there was no turning back. I needed to loosen my grip, put my words out into the world. Will they be praised? Criticized? Who knew? I was about to share my writing with my family, the toughest of critics. After all, I wrote about them, each one of them. I had reason to sweat.
Getting to this point was work. It took discipline to sit down and write every day. Organizing the research took time and patience, and self-publishing 'the book' well that was just an exercise in time and money. However, shipping, letting my words go out into the world that was the hardest part of all.
For years, there were plenty of reasons not to write, not enough time, the research wasn't finished, was I a real writer, who would read it? In retrospect, I know they were all excuses, excuses to avoid my real fear….being vulnerable.
Writing is a very personal and creative experience and sharing your art with the world well you may as well be standing naked. That's what it felt like when I finally let my book slip out of my hot sticky palms on that July day and into the eager hands of my awaiting family. I felt vulnerable….exposed.
For the next few days, my stomach clenched in a tight knot as I waited for the emails to arrive, pointing out my apparent blunders. Then the feedback started too flow. This is where I'm suppose to tell you all my worrying was for nothing, everyone loved it. Yes there were many accolades, but I'd be lying if I said that's was all that arrived in my inbox. Of course, there were mistakes and yes, they devastated me. I worked hard to write the perfect family history book. However, writing my first family history book taught me several important lessons: about being vulnerable, with immense risk comes infinite rewards including the greatest opportunities to learn, and there is no such thing as the perfect book.
I can assure you, your family history book will not be perfect, no matter how hard you try. If you're waiting for perfection before starting or finishing ….well, it will be a long wait.
Writing your family history stories isn't just about relaying the facts of your ancestors out to the world. Really, is that what you thought? The real story lies in the journey of writing your family history stories. While there is plenty to learn from our ancestor's stories, the enlightenment really happens in the journey to tell them.
I look back at my first book and I certainly can see where I could improve. Of course, that is only possible because I did the work. You can read about writing all you want, take courses and webinars, the real learning comes in the journey.  Writing your family history book is your classroom.
Not only will the process of writing your book elevate your level of writing, it will also push you to look at your ancestors on a much more personal level. Turning your research into stories forces you to look at your ancestors on a more emotional level. No longer names on a document, you'll become so much more intimate with their lives, your research can't help but be affected.
I still get nervous, anxious, and have that familiar knot in my stomach every time I publish. I doubt that will ever go away. I'm not sure I want it to. It tells me I'm reaching, pushing myself forward and learning.
Are you chasing the dream of the perfect family history book?  When will you feel the excitement and reward of sharing your family history stories with the world? When will you be ready to take your own journey of self-discovery and growth?  If not now, when?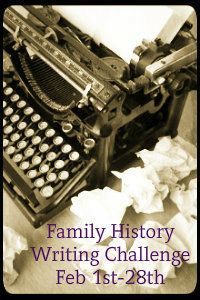 Are you brave enough to write your family history stories? Are you prepared to finally leave the excuses behind and join us in The Family History Writing Challenge?
Join The Family History Writing Challenge, Feb 1st-28th.
Lynn Palermo is a family historian, freelance writer and blogger at The Armchair Genealogist. The founder of The Family History Writing Challenge, she is passionate about helping family historians bring their stories to the page.